The knowledge you need to realize your priorities.
You want to stay ahead of the game. So we provide you with all the resources you need, including monthly global/local market outlook analysis and expert opinions.
※ Please contact the Priority Banking hotline (1577-7744) for more details.
Podcasts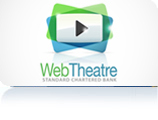 Standard Chartered has lined up a wide variety of videos for you. In our Web Theatre, you will find videos ranging from our newly launched Here for good campaigns to interviews and business advices. Click here to view the videos.